T-Girl Chat Room
Live chat with transsexuals, crossdressers, transgender & t-girls.
T-Girl chat is a great way to get to know more about the transgender community. I encourage you to join the chat room. For security, we require that you register a username and password. No worries, it's fast and free, and will never cost anything to use the chat room. Please read through the rules and make sure you adhere to them. Refrain from calling anyone shemales in this chat room — most will consider the term very offensive and you will be kicked from the chat. Just politely join the conversations and get to know everyone. They are some great people who will be happy to chat with you.
---
Transgender Chat Powered by TGGuide.com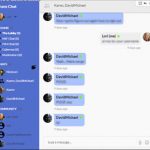 We have thousands of transgender members and tg community friends. Transgender chat is a great way to explore your place in the trans community. Come join us in a safe, welcoming environment and meet new friends!
We don't have a lot of chat rules but we need a few to be sure the chat flows smoothly. Please read through the chat rules and make sure you follow them. Join the conversations and get to know everyone. There are some great transgender folks and community friends who will be happy to chat with you.
Just look at the bottom right of any page on this site to join our transgender chat at any time while you're browsing.
TG Chat – You Must Agree To The Rules Stated Below
TG Chat Rules: The transgender chat room is frequently monitored by moderators who may or may not identify themselves as staff members. You must abide by their instructions at all times. We try not to be overbearing but some simple rules are needed to ensure a sense of safety and a free flow of live chat.
1. You must be 18 years of age or older.
2. Do not create a username that is offensive, sexually graphic or indicating youth or an interest in minors.
3. No abusive or profane language, flaming or personal attacks against others. No religious or political discussion. Please keep it civil.
4. Do not advocate any type of illegal activity.
5. No unwelcome private messaging – Ask first.
6. No scrolling text, excessive audio emoticons or other disruptive activity.
7. Do not drop web addresses or links of any kind in any room.
8. You must be in a room at all times.
9. Disrespect of Moderators will not be tolerated.
10. We may restrict or ban anyone who creates a disturbance of any type. We're very friendly, so please just be nice!
---

MOBILE CHAT: You may now access our transgender chat on your mobile device. Go to www.tgtalk.com in your mobile device's web browser to log in and chat on the go!