About Amber Lynn @ TGGirlfriends.com
Amber Lynn Bio
About Amber Lynn – Transgender Dating Coach. See my bio below!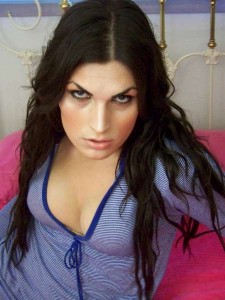 Name: Amber Lynn
Age: 31
Personal: Non-Op Transsexual
Pronouns: She/Her
Orientation: Pansexual
Height: 5-9
Weight: 135
Location: NYC, New York
Occupation: Writer, Content Producer, Trans Model
Hobbies: Photography, coffee shops, travel, and learning about new cultures
Likes: Polite men who admire trans women
Dislikes: Mean people suck!
All about Amber Lynn: I go by Amber Lynn. I'm 31 years old, from the east coast of the U.S. I am a writer, webmaster and aspiring transgender model. I have been a trans woman since early childhood. At around 5 years old, I knew something wasn't right. I knew I was a girl inside, even though everyone referred to me as a boy. This feeling only intensified as I got older. By high school, I was beginning to transition. There was no other choice. I have chosen to remain non-op, quite content to have traits of both genders but I definitely identify as a female.
About Amber Lynn's Trans Dating Tips
Dating was obviously pretty difficult for me during my early transition. I didn't have the knowledge or experience to navigate romance. I had some good dating experiences and many not-so-good experiences. I noticed there was a disconnect between transgender women (me) and male admirers. I spoke with my trans girlfriends and they revealed their own dating experiences which were similar and sometimes identical to my own.
I noticed there was a disconnect between transgender women (me) and male admirers.
I love men but sometimes they lack the understanding to connect emotionally with a trans woman. I decided to do something about it. At first I would meet guys online in trans chat or a transgender dating site. I began talking openly and sharing what a transgender woman wants in any interpersonal relationship, whether as friends or lovers. I found the men to be eager to learn! That's when I knew I had a mission for which I was uniquely qualified — to help me overcome their apprehension or lack of understanding and enjoy successful trans relationships.
About Amber Lynn, Transgender Dating Coach
I became known as the Transgender Dating Coach due to my work with men, most of whom I actually dated. Some have become long-time friends and some have continued to develop a meaningful relationship with a transgender lover. I take that as a great validation of my work. I want to help however I can because of that disconnect between trans women and male admirers.
I love being feminine and dating both men and women and even the occasional trans woman. I especially enjoy time with men who have good manners and treat me like a lady. I work hard to look my best so why shouldn't I be treated with respect? When I first started dating I noticed that some guys seemed shy or awkward, and some didn't know how to approach me. Sometimes they didn't approach me at all. What a shame. I may have really enjoyed their company.
I especially enjoy time with men who have good manners and treat me like a lady.
Where to Connect with Amber Lynn
The best place to connect with me is in my new transgender chat room! Trans admirers are most welcome! It's a great place to meet transgender women of all types, learn the lingo, become comfortable in trans social situations and make new friends. It is more than just transgender chat though. You will be able to search member profiles and photos, swap pictures with other members, exchange private messages, add friends, share private photos and join forum discussions. It's a great place to unwind and socialize and it is 100% free.
You may also connect with me on my T-Girl Dating Coach Facebook page. I occasionally share new photos or videos on my Facebook page. I also post news and transgender interest stories now and then. I will appreciate a follow along with your likes and comments. I reply to comments and messages as often as I can so come visit me on social media.