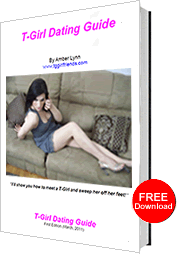 My T-Girl Dating Guide is here! Due to what I've seen and experienced with men, I've written a men's guide to meeting and romancing T-Girls. I'll tell you where to meet T-Girls both online and offline, how to make your approach, good opening lines, the correct terminology to use and how to sweep your special T-Girl off her feet.
Dating T-Girls isn't rocket science, but there is so much misinformation out there that I felt this would be helpful. I've been approached many times by well intentioned men who have no idea what a T-Girl is or how to treat us. I believe most of these men are nice gentlemen — they just need the knowledge to make it happen. The feedback I've been getting tells me the guide is just what T-Girl admirers need.
I will explain the differences between crossdressers, transvestites, transsexuals, drag queens and shemales, and how to meet them both online and in the real world. More importantly, I will cut through the confusion created by all the misinformation out there. You'll be well grounded with the knowledge that will set you apart from all the other men who want an exotic experience with a T-Girl.
The T-Girl Dating Guide is free! It is available on this site for instant download, along with a subscription to my personal e-mails which I'll send out about once a month. It's all free and I'll share more dating tips, member questions & answers, my personal insights into the t-girl world, and you'll receive more photos of me and my girlfriends.
Due to the adult nature of the photos and e-mail content you must be over 18 years of age to subscribe. I never, ever share your e-mail address with anyone else and you'll never receive spam messages. Just fill in the simple subscription box at the right side of this page. It will take you about 15 seconds! Once you subscribe, you'll need to go to your email inbox to verify your request. Please do that right away and you'll receive an immediate download link for your copy of the T-Girl Dating Guide.
Once you start receiving my e-mails you can unsubscribe anytime you want. There will be an unsubscribe link so you can opt out of my personal e-mail messages anytime you want but why would you want to do that? ; )
---
T-Girl Dating Guide: Comments from Readers
I wanted to say that your site is very helpful. It provides me with useful tips on what to do and not what to do in a dating/or getting to know situation with a transgender. You're right, there is a lot of misinformation out there. Therefore it's good to know you are out there to set the record straight. I have liked and thought about dating and starting a relationship with a transgender for many years. I came very close to it one time but it didn't work out because of distance. I'm a little stuck as to where to meet transgenders. I am very busy and work long hours so I can't always make it to clubs and bars. I was wondering if you could recommend any dating sites. I am in the UK. Many Thanks, Morgan L. (Facebook Friend)