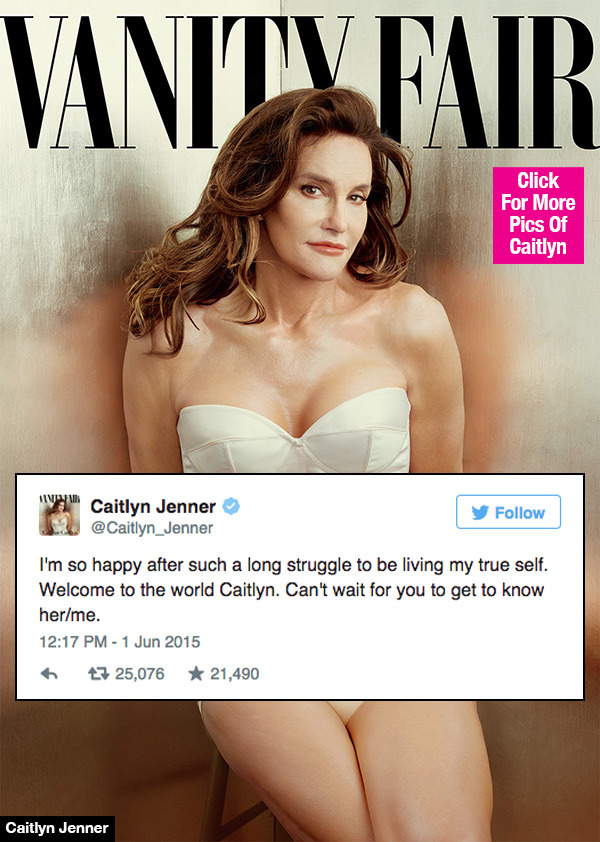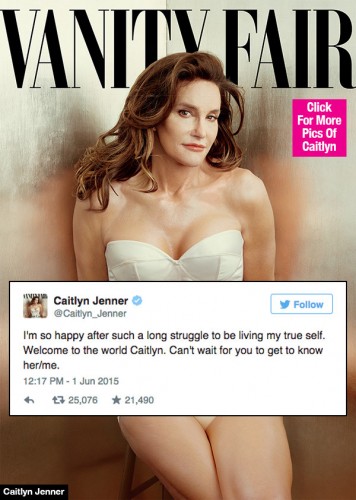 So, by now you will have seen it all over social media and the media in general; Bruce is gone, long live Caitlyn! Back in April, which seems like months ago now, we were introduced to a new side of Bruce Jenner, as yet unnamed, but certainly different to the athlete we all knew. Jenner was 'coming out' as a transsexual and finally telling his story to Diane Sawyer of ABC News. At that time, we had no idea what his new female persona would look like, sound like or be named. However, Bruce has put his male alter ego to rest and has proudly announced that Caitlyn Jenner has entered the building and she did it with style!
Pictured on the front of the June 2015 edition of Vanity Fair Magazine, Caitlyn looks more like a movie star from the 1940's or 1950's. She proudly sports a long flowing set of beautiful brown locks and a set of boobs that most women would be proud to flash on the cover of one of the world's top magazines. Caitlyn Jenner's Twitter account has only 2 tweets as I write this but already she has accumulated over 1 million followers.
Back during the interview with Diane Sawyer, Bruce, who had not revealed at that time just what his female name would be, told Diane that he had long known he was different. Even during the days when he was a famous all-American Olympic athlete he was aware that his inside persona was not the same as his outside persona. He had tried for many years to cover it up, hide it and pretend it wasn't there but, like anyone with a secret that deep it has ways of surfacing. One cannot pretend their entire life and not suffer inward torment.
What Jenner has been most surprised about—she shares in her interview with Vanity Fair—is that every time she goes to the mailbox she has been overwhelmed by all the worldwide letters of support she is receiving from total strangers and friends alike. Caitlyn reveals to Buzz Bissinger that she suffered a huge panic attack after undergoing her feminization surgery because it took ten rather than the alleged five hours it was supposed to take. She saw a counselor who calmed her and told her that her reaction was quite normal and usually induced by pain medication.
Jenner also revisits a similar comment made to Diane Sawyer when he spoke about his end of life thoughts, saying that he didn't want to look back and think he has blown his entire life away because he couldn't live as he felt he should have. Caitlyn is a she and Bruce is now a defunct character who played a huge part in the molding of Caitlyn but is not Caitlyn.
The 22-page cover story is sure to be one of the top selling stories of the year and will no doubt promote massive sales for Vanity Fair. It is backed by some stunning photos by Annie Leibovitz who was the only person Jenner would have chosen for the photo shoot. Whether you regard Jenner's story with an eye of suspicion, or cynicism, or just good old fashioned curiosity, one thing is for sure, Caitlyn Jenner has made her mark on society already and is a pioneer to many. Even stars like Laverne Cox must hand kudos to Jenner for being so publicly open about her struggle with her gender identity.
Twitter is blowing up with photos and congrats and all manner of comments about Caitlyn Jenner, with David Caplan tweeting a picture of Caitlyn in a 'smoking hot dress'. Anyway, as a trans myself, I can completely understand Jenner's need to be herself and I for one salute her bravery for being famous and doing this right in front of the world. Kudos Caitlyn and may you have a long and happy life!